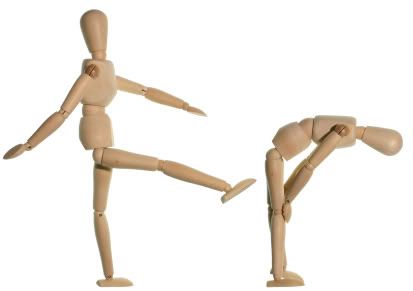 Okay I need a good kick up the @rse, this week other than doing the 20km road ride on Sunday and 10km Mountain bike ride on Monday. I have not done one iota of exercise (other than my 10000 steps that is). I have gone straight for the PC upon waking and getting home from work. NERD! Yes; I am a HUGE NERD! I am an Information Technology Teacher.
So what am I going to do to alleviate the no motivation and the computer chair butt?
A CHALLENGE (in true top gear style)
I will:
Go for a run
Do one of the many fitness DVDs
Go to Bodyrock.tv and do a Zuzanna workout
Wake up and turn on the Lifestyle You Channel and do the My Workout
During ad breaks at night while watching TV do sit ups and push ups
Walk more around the classroom

continue to run the stairs at work at any given chance
I read today's blog from
*Bitchcakes*
which rang true; I so need a change, I have gotten relaxed since I hit goal. If I don't up the anti now I will easily gain weight. I need to get focused again, set small and realistic goals in regards to exercise.
*bitchcakes* sums it up nicely:
"If you always do what you always did, you'll always get what you always got."
"If you want to see different results, you need to try a different approach. ... If you want to see a change, you have to start by changing something."
That is what I am doing, changing
something
,
changing my attitude and motivation to just get off my butt and do some extra exercise
. I used to go to the gym 5 days a week for at least an hour, which included running 4-5km, rowing, stairclimber (boxing when I did PT along with weight training too). I need to make more time for me and at this time it means
EXERCISE
. I need to love it again. It is amazing what quitting the gym does to your motivation. So I need to use all the tools I have (and I have tonnes) and find some routine that works for me.
So here I am getting off my butt and doing something....