100 steps Challenge
For those who have followed my blog for sometime will remember I was doing a
100 Step Challenge
with Linda over at
I'm Just Linda
. We are re-starting the challenge and you are welcome to join in.
The Challenge:
1. We take a photo that represents one of the small steps we have made towards health (physical or mental) and/or fitness each day of the week.
2. We post all seven of the previous week's photos on Monday.
3. We can choose to elaborate on the photographs, or let them do the talking for themselves.
4. We don't need to post a different photo every single day of the challenge... perhaps part of our new lifestyle is to go to an exercise class once a week - there's no reason why we can't post a photo of going to that same class every week.
5. In 100 days, we're going to get together and celebrate our achievements.
6. We reserve the right to amend the rules if need be (just in case) - but if we do, we'll let you know.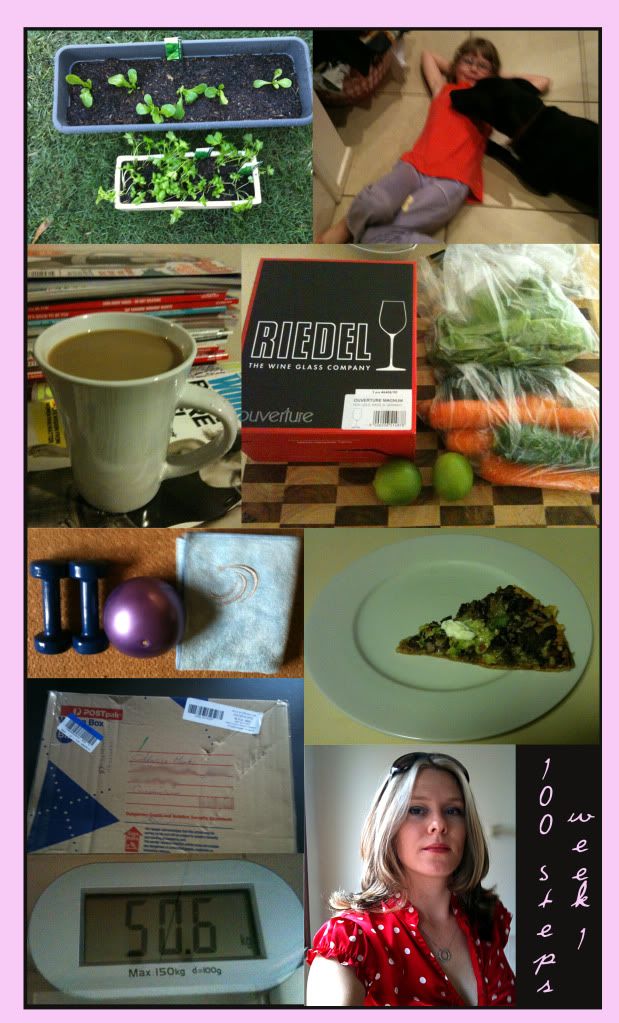 Okay clockwise from the top (not in daily order):
New seedlings. I planted these seedlings earlier in the week. I threw out my basil which finally died (I think it was over watered, by me, my partner and the rain) You should know I am utterly hopeless when it comes to plants. I can grow weeds successfully and kill everything else. So I'll keep you updated on my new green thumb. My partner said he would chuck out any plants that I kill and that it is up to me too look after it.
My best friends daughter who is 6 with my dog Sledge who she adores. She even named a toy dog I gave her Baby Sledge. I love her to death, she has had so much emotional up heavel in the past year it's not funny. Her Dad practically kidnapped her after a drop off in 2009. Then accused my best friend of abusing her daughter and refused to return her. Many mediations and court hearings later she is home with her Mummy. Her father allegedly has brain washed her telling her that he mother hurt her and hates her. She is getting better now with very few tantrums, and is seeing a counsellor this week. I hope everything works out for them both. It drives me nuts and I just want to cry about the whole situation.
On Saturday my mother-in-law gave me some vegetables and some FREE wine glasses. A great surprise.
Wednesday I made Mexican Pizza the recipe is a few blog entries down if you are interested.
Wednesday morning I got my hair done, this is my reward for getting to goal. I feel more confident with new hair colour.
Thursday-Sunday my weight stayed at 50.6kg, which is great but I think too close to the bottom of my HWR for my liking. If I sit somewhere between 50.5 and 51.5 I will be happy. My goal for this week is for my weight to plateau. I only have 2 more weeks until I get my lifetime membership (squeals), so I hope that everything settles.
My awesome package from Linda, thanks again. I should be getting some more packages this week from some online purchases. So I can make some items to sell.
Now because daylight saving has finished the show I exercise to in the morning is on earlier (I miss the repeats as I'm at work) so I will do the workout then have breakfast later. I wish I could afford one of those recording things for the pay TV. But sadly I'm supposed to be saving like crazy.
My partner and I have found a love in liqueur coffees. This coffee is with a 1/2 Frangelico shot. We have also become fond of Ambra which is an orange liqueur, the coffee tastes a bit like jaffas.
I took a few photos on the weekend but nothing too interesting. So here is some of the cool architecture at my local shopping mall, Robina Town Centre. I went and had morning tea with my parents on Friday. I took this while I was waiting as I got there rather early. The whole centre has really cool furniture pieces of funky architecture, next time I go I'll find something else cool.