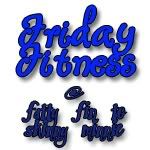 It is important to make time to exercise daily. whether you are a morning, lunchtime or after work person you need to keep that commitment to yourself and your body.
If you have 20 minutes to watch TV or check Facebook you have time to workout.
Personally I'm a morning workout person. I do a 30 minute DVD or a workout from www.bodyrock.tv.
Morning exercise is a great way to the start the day and gets your metabolism started. A cardio workout combined with interval training or yoga will help you get started for the day ahead.
These are beneficial because they increase flexibility and strength.
Lunchtime or afternoon workouts can get you out of the office or break up your day getting you filled up with energy. Exercising in your lunch break can free up time for doing other things in the morning or evening. A 20-30 minute cardio, interval or circuit training are best for a short space of time. This works more muscles and makes the most of your 45 minute to an hour break. A quick shower is a must if your heading back to work! Don't forget to make time to eat a healthy and nutritious lunch with vegetables, protein and carbs. I usually get to do a power walk 3 lunchtimes a week as I do my playground duty. I have two duties out at the basketball court and oval. I often am seen running all over school, up and down stairs and this also helps me get some more exercise in during the day.
Working out after work in the late afternoon or evening is great. I sometimes take my dog for a walk or run after work or on a late afternoon on the weekend. Its a great time to catch up with your inner thoughts and ease the stressful day. With most of the East-Coast on Daylight Savings Time (except QLD) there is more time to use the evenings for exercise.

What I'm up to this coming week:
This week I'm back at work. It has been a busy week and has gone rather quickly. We are busy finalising all the trades as there is only 3 more weeks until we move back in. On Saturday we are installing insulation and doing an exterior builders clean.
Things to do this week:
Write your inspiration list
Post your before photos
Find something that inspires you and post it.
Move more; Make "YOU" time by getting in more active activities than this week. It shouldn't be too hard to do this.
Try something new - it might be a new activity, food or something you've always wanted to try.
Make obtainable short term goals and stick to it.
Eat more vegetables and protein.
Consume less sugar
Photo inspiration:




Get inspired to lose:
No change this week in measurements. I need to up the exercise and cut the alcohol and sugar again.
Weekly Exercise:
Saturday - housework and renovations
Sunday - housework and renovations
Monday - Jillian Michaels 30 day shred DVD
Tuesday -
Jillian Michaels 30 day shred DVD
Wednesday -
cleaning gutters, windows and weeding garden 4 hours
Thursday -
cleaning gutters 2 hours
Friday -
Jillian Michaels 30 day shred DVD & vacuuming all dust and debris from renovation
Help inspire me to get back to 50kg. (I have 3.5kg to go)
When do you make time to exercise?