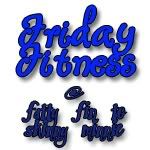 Sleeping and Exercise
This week I am struggling with both exercise and sleep. I think both go hand in hand. You need to do some sort of activity 4-6 times a week which can consist of:
meditation
yoga
weight training
interval training
Jogging
Jumping rope
Kick boxing
Riding a bike
Walking.
There are several steps to making it easier for you to have a good night sleep:
Set a routine, do things in a specific order to prepare you for bed. Your body will know its time for bed when you do these activities.
Have set times for sleeping and waking. Keeping regular patterns of sleep help keep you alert and have a feeling of well-being.
Exercise in the afternoon and upon waking helps release endorphins which aid sleep.
Relax, have patterns that get you into a relaxed mode, this is great in aiding sleep.
Make time for yourself.
Make the room you sleep in comfortable and inviting.
Inspiration for physical health:
What I'm up to this coming week:
Cleaning and tidying up the house, hopefully will find sometime to relax this weekend. Busy week at work next week as Year 12's are on Shutdown for exams. Lots of marking and reporting to complete.
Things to do this week:
Write your inspiration list
Post your before photos
Find something that inspires you and post it.
Move more; Make "YOU" time by getting in more active activities than this week. It shouldn't be too hard to do this.
Try something new - it might be a new activity, food or something you've always wanted to try.
Make obtainable short term goals and stick to it.
Eat more vegetables and protein.
Consume less sugar
Exercise more
Photo inspiration:
Get inspired to lose:
Weekly Exercise:
Saturday - moving house
Sunday - unpacking
Monday - unpacking
Tuesday - unpacking
Friday -
NIL - partner sick
Pedometer:
Saturday: Moving house
Sunday: unpacking and purchasing couch
Monday:13561Steps 8.54km 1PP
Tuesday:14857 Steps 9.40km 2 PP
Wednesday:13875 8.89km 2PP
Thursday: 14345 9.10km 2PP
Friday:14543 9.17km 2PP
Help inspire me to get back to 50kg. (I have 3kg to go)
How are you feeling this week?Have you gotten enough sleep?